Lavender is a female athlete in the Algicosathlon.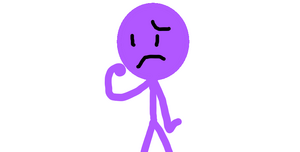 Personality
Lavender gets very upset sometimes. She is also extreme.y shy at times and likes to stay away from others and do her own thing. Her personality is similar to Ice Cube or Ruby in BFDIA.
Memories of Lavender
Lavender got off to a very good start, with 5th place.
Day 2 was miserable for her. She fell in the first crash, and got last in the challenge. This plummeted Lavender to 9th place overall.
Day 3 was okay for her. Overall, after the 4th challenge, she dropped to 13th place, one spot away from elimination.
She did good on day 4. She jumped far, but not far enough from her friend Blue.
On day 5, she didn't do so well. She fell to 7th place.
Day 6 was mediocre for her. She got 7th place, and plummeted to 10th place again,one spot away from elimination.
Day 7 was great for Lavender. She got the 5th most votes. She made it to the final round with Olive and Purple. She got 2nd place in the challenge and rose to 6th overall.
Day 8 was a bad day for her. She fell to 9th place. However, after the 11th challenge, she rose to 6th again. The top of the leaderboard was simply unreachable.
Lavender was placed on the long name team on day 9. Her team, which consisted of Lavender, Yellow, Purple, and Orange, won the challenge. She was now in 3rd place.
Day 10 wasn't a good day for her. She lost nine babies. As a result, she plummeted to 5th place.
Lavender bowled really well on day 11, especially after she was seen crying. She got 2nd place and rose to 4th.
Day 12 wasn't a good day for her also. She didn't do too well in the weightlifting challenge. As a result, she fell to last place, and was eliminated.
Trivia
Lavender was the first athlete to cry during a challenge.
Just like Blue, Navy, and Olive, Lavender placed 5th in the first Challenge, but placed 5th overall.
Community content is available under
CC-BY-SA
unless otherwise noted.