Red is an athlete in Algodecathlon and Algicosathlon. He got 2nd place in the Algodecathlon, but got a pathetic 14th place in Algicosathlon.
Coverage
Red is a friendly athlete on Algicosathlon.
In Race to the Bowl which was on Day 1, Red placed 7th/16th so Red was in the top half. He also gained 20 points which was okay with him. Tan was eliminated with 1 point.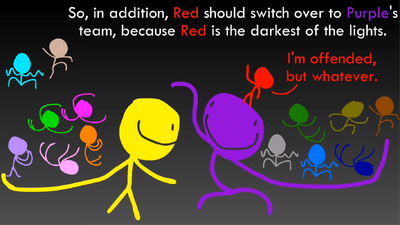 On Day 2 before the event, Red had a 0.15% chance of being eliminated. In the event which was BMX Cycling, Red fell off the course in the biggest crash in Algicosathlon history! Because of this, Red placed 10th in the event and dropped to 11th on the overall scoreboard with 32 points, just 1 point behind Green and Lavender. Cyan was eliminated with 22 points.
On Day 3 before the two events, Red had a 15.7% chance of being eliminated. In the next event which was archery, Red along with Yellow, Orange, Magenta, Lime, Pink, and Lavender were on the Light colors team. In the event, Gray and Olive's arrows nearly destroyed Red. Red did not make it in to the second round, because he had no head. But the light colors won, which meant Red along with the other light color team gained 50 points (that was the reward for the team that won). Red rose to 10th place with 82 points, just 1 point behind Lavender! There was no elimination due to it being a team event.
In the next event that was on Day 3, which was sled dog racing, (Warning: Algodoo sled dogs look weird!) the athletes were divided into groups of three, except for Olive and Gray. Red was grouped with Brown and Green. Red did the worst of the three with 50.6 seconds, and fell to 14th place overall scoreboard with 96 points, and was eliminated. He even tried to prevent himself from the lava, as he stopped dead on the slide.
On Day 15 (the finale) Red, was going to be on Yellow's team but when Cyan and Tan joined Yellow's team, that disrupted the balance, so Red switched over on to Purple's team, because he was "the darkest of the lights", which offended him. Even though in the event Red placed 16th which was last place, his team (Purple's) won, so she won Algicosathlon! Also, Red was fined over $400,000 for placing 14th.
Community content is available under
CC-BY-SA
unless otherwise noted.