Hello! FusionFury9 Here. This is my way of the Algicosathlon in Day 2 that is.
This is going to take much longer than the real Algicosathlon because Algodoo athletes are much weaker than human athletes. (True)
( Please don't edit this I just want people to see it, if you want to edit it just make your own)
Welcome back to my Algicosathlon sorry for the hiatus
School is messing me up. I have been slacking off lately...
Scores
1st: Red 100 pts
2nd: Tan 70 pts
3rd: Lime 50 pts
4th: Lavender 40 pts
5th: Blue 30 pts
6th: Gray 25 pts
7th: Yellow 20 pts
8th: Green 15 pts
9th: Cyan 12 pts
10th: Purple 10 pts
11th: Navy 8 pts
12th: Orange 6 pts
13th: Pink 4 pts
14th: Brown 3 pts
15th: Magenta 2 pts
16th: Olive 1 pt [ELIMINATED]
BMX Bicycling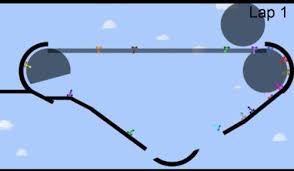 White: The next event is BMX Bicycling.
Cyan: But I hate BMX Bicycling!!!
Navy and Purple: Well, not me.
Cyan: Easy for you to say, you were the top two in the event.
White: ENOUGH BICKERING!!!
White: Here are the points up for grabs.
1st: 150 pts
2nd: 105 pts
3rd: 75 pts
4th: 60 pts
5th: 45 pts
6th: 38 pts
7th: 30 pts
8th: 23 pts
9th: 18 pts
10th: 15 pts
11th: 12 pts
12th: 9 pts
13th: 6 pts
14th: 5 pts
15th: 3 pts
The Happening
White 3,2,1, Go!
As usual they go in point order.
Lap 1
They go off a small jump all make it except Lavender started a crash!!!!
Gray, Tan and Blue joined Lavender in the crash.
(The order they fell off)
15th: Lavender (again)
14th: Tan
13th: Gray
12th: Blue
The thingy closes... you know what I mean.
White: This is boring already let's add a speed bump.
*Speed Bump randomly appears*
Lap 2
Red hits the speed bump oh no!
Lime joins Red in the crash however Lime balanced back up and went on leaving Red in the dust.
11th: Red
Lap 3
Like Olive attracting to Lime. Yellow started chasing Lime. They both hit the speed bump and fell to bottomless death.
10th: Lime
9th: Yellow
Lap 4
Purple gets evil again and trips Cyan off the course but, Green decided to join him and fell off the first jump.
8th: Cyan
7th: Green
Purple got karma she fell off the speed bump as well.
6th: Purple
Lap 5
Final 5:
Orange, Magenta, Navy, Pink, and Brown.
Hey the Final 5 are all the people in the bottom 5 in the scores.
Now this was unusual Brown hit the speed bump with bumped him up. Then he hit Magenta and Navy and fell with Brown.
5th: Navy
4th: Brown
3rd: Magenta
Lap 6
Final 2
Orange and Pink
Wow! They both survive Lap 6
Lap 7
Pink tipped over and fell on the speed bump and Orange won!
Orange: Yes!!!!!!
Purple: Luck, just luck.
Orange: Oh stop talking.
Pink: Agh so close!
Navy: At least you did good.
Pink: Thanks!
Elimination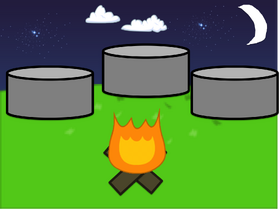 White: Welcome to the new elimination.
Credit to JacknJellify for the assets.
Orange and Red are safe with 156 and 112 points respectively.
Pink is the last one with over 100 points with 109 points. She is also safe.
Magenta and Tan are safe with 77 and 75 points.
Lime is safe with 65 points.
Brown is safe at 63 points.
Navy is also safe with 53 points 10 less than Brown
Purple, Green, and Lavender are safe with 48, 45, and 43 points.
Blue is safe with 39 points.
Final 3:
Yellow, Gray, Cyan
Yellow is safe. (38 points)
Gray, Cyan, one of you will be eliminated. That person is...
GRAY!!!!!!!!!!!!! with 31 points you are eliminated
Cyan is safe with 35.
Gray: Aww I guess it is time for me to go.
White: Yes. Yes it is.
*Gray falls into lava pit*
Gray's Memories:
Gray got 6th place in RTTB which gave him 25 points.
Gray did horrible in BMX Bicycling he got 14th place with only Lavender losing as usual.
Lavender: HEY!
Points
1st: Orange 156 points
2nd: Red 112 points
3rd: Pink 109 points
4th: Magenta 77 points
5th: Tan 75 points
6th: Lime 65 points
7th: Brown 63 points
8th: Navy 53 points
9th: Purple 48 points
10th: Green 45 points
11th: Lavender 43 points
12th: Blue 39 points
13th: Yellow 38 points
14th: Cyan 35 points
15th: Gray 31 points [ELIMINATED]
16th: Olive 1 point [ELIMINATED]
See you in Day 3
-FusionFury9
Community content is available under
CC-BY-SA
unless otherwise noted.